Theater Review: Technology only underscores family dynamics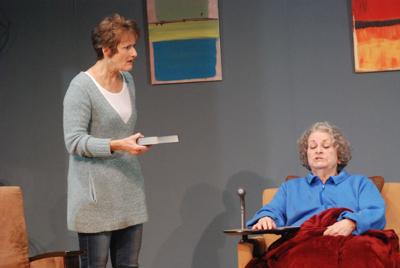 RUTLAND – Imagine you could still talk to, be reassured by a loved one after they passed away. In Jordan Harrison's drama "Marjorie Prime," seemingly human computers are programmed to respond as an individual person by learning stories. But these non-humans can elicit unexpectedly penetrating understanding among the humans they interact with.
Vermont Actors' Repertory Theatre opened a production last week that proved as fascinating as it was human at the Rutland community theater's capacious new home at Tuttle Hall Theatre at the College of St. Joseph. Most important, Friday's performance proved riveting.
The elderly Marjorie, after losing her husband Walter, is lonely and beginning to show signs of dementia. In order to ameliorate the situation, her daughter and son-in-law Tess and Jon have purchased a "prime" to keep Marjorie company as well as care for her. The action is purportedly on the West Coast in 2062 but other than the primes could be here and today.
Marjorie's death only renews the struggle to find the source of Tess' deep unhappiness. Through twists and turns, layer after layer is peeled, revealing a deeply troubled but loving family.
Actors' Rep's production, directed by Joanne Greenberg, had a consistency seldom seen in community theater. Throughout the actors felt as authentic as was their interacting convincing. Crafted by Greenberg, the dramatic arc proved both unexpected and inevitable.
Virginia Smith was just so real as the elderly Marjorie, charming one moment, caustic another, getting mixed up and then brokenhearted about it. Alex Nicosia imbued her Walter Prime with a subtle non-humanity to his overt humanness. You just can't be too sure.
Diane Richoz Barclay as Tess and Andrew Hamling as Jon were so convincing as a troubled loving couple that it was nearly impossible not to ride their emotional roller coaster with them. Most importantly, the cast gave the sense of a real family, the bad as well as the good.
The Tuttle Theater is a big improvement over the Paramount's Brick Box, the company's longtime home. Danielle McKeighan's simple but realistic one-room setting enjoyed the larger stage, while David Lane's lighting illuminated the action and facilitated the scene changes. Seats on either side of the hall were walled off on either side for more intimacy. And, speaking of seats, they were most comfortable – and there's plenty of parking.
Actors' Rep's "Marjorie Prime" is community theater at its best – entertaining and compelling.